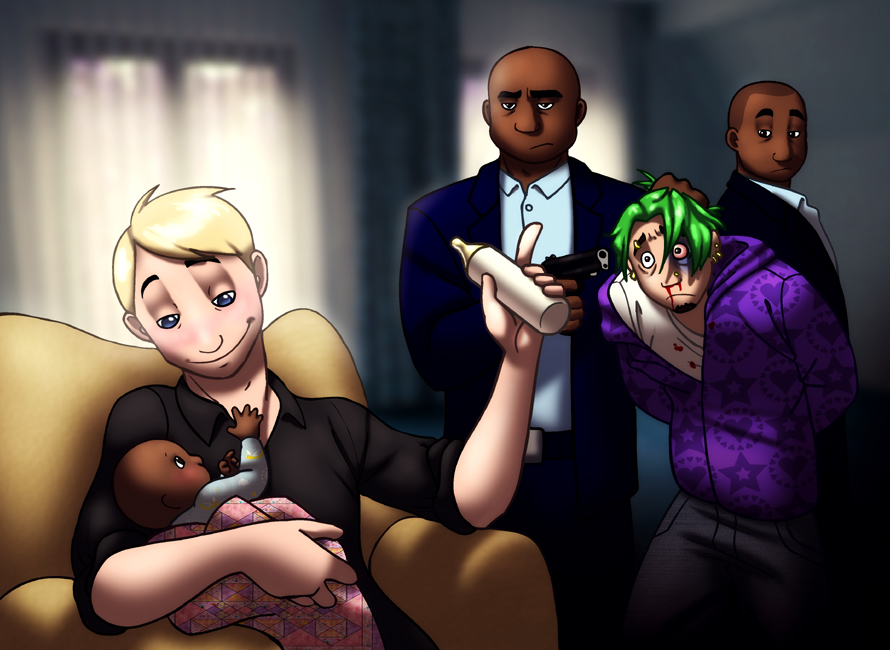 Uncle watches over you
---
So far I've made it seem like Niels (Yes, that is Bi-Baddies name. Deal with it!) lives in two worlds, "work" and home, but in reality they mix quite a bit.

The baby Niels is sitting with is the child of the couple he lives with. The mother got pregnant after he entered the scene, but in case you were wondering, Niels is not the father. The real father would probably have kicked him out if the baby turned out to be too light skinned. Sure they have a nice threeway thing going, but that doesn't mean everybody has to know!

(Still don't have names for the couple by the way. Can someone help me out?)

You just know that kid is not going to grow up right as long as "Uncle Niels" is around.

He loves it like it was his own, though. So all harm that should become it would not be his intention.

And finally: People keep asking me about his name and backstory, and I can't take it any longer! You win, okay!? I give in! Here it all is!

****
His full name is Niels Gyldensted. He was born and grew up in Denmark, and came from a nice doctor family. I don't think it will come as a big surprise that his parents weren't the best. They didn't abuse him in any way, but they didn't seem to care a whole lot about him either, except when people came with accusations of Niels being "not right in the head". Then they were always quick to tell people they were wrong, so those "not right" parts of Niels were allowed to grow. At first he just did those things to get some kind of reaction from his parents, but they quickly became part of his personality.

When he was growing up, black people were far en few between in Denmark, so when a black woman moved into a small house at the end of the road, he couldn't stay away. He would chase the younger kids away to impress her when they were yelling after her, and it wasn't long before she let him into her house.
At first she became the mother he never really had, but over time it turned sexual, and just before his 16 birthday she became his first (should be noted that it's legal to have sex when you turn 15 in Denmark) People started talking, but other than that nobody did anything because his parents responded as usual by calling them all liars.

When he got older he went to USA. It was only supposed to be a vacation with some friends, but he met a shady guy who, when asked about his nationality, always just responded with, "I'm an American" and called himself "Johnny" though he was obviously from somewhere else. He asked Niels if he would like to work for him, and the day before Niels was supposed to fly home, he ditched his friends at the airport and went back to Johnny. His new boss made sure he could stay.

Years later he got tired of Johnny and killed him. End of backstory.

19th September 2009
Tagged in
Share Niels:
Latest comic in your News Feed:
We have an awesome newsletter with 18,001 subscribers!
Latest comic news
Merchandise news
Iceland's Demon Cat
and more!
10 Comments:
Copyright © 2009-2022 Niels
Artist's dA Journal
|
Artists Twitter
|
Privacy Policy