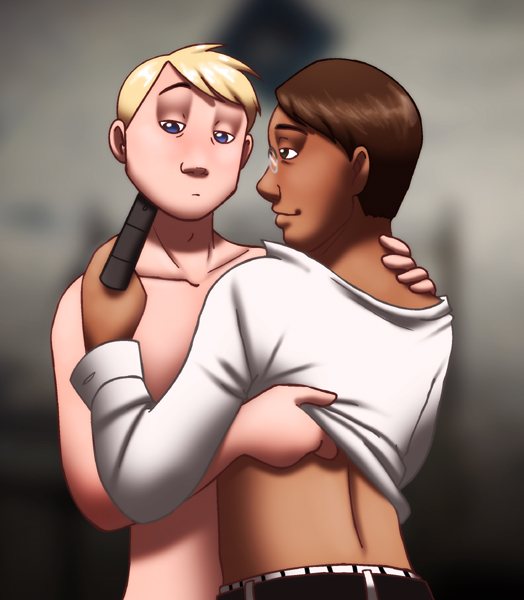 Easiest Job Ever
---
This is going to be so awkward when Niels' bodyguards bust in to save him. They will never be able to unsee what they saw that night.



http://alexander-rowe.deviantart.com/ 's character Cecil Meriwether, a gangster hitman with a very darks sense of humour. He has a wife and child, but sometimes you just have to get the job done. ;)
He isn't quite black, but his dark skin would non the less make it ridiculously easy for him to get close to Niels, get him in a room alone, and even disarmed.
That's what you get for even thinking of cheating on your girl- and boyfriend!

I was going for a surprised look on Niels, but instead he ended up looking mildly disappointed.



These days I'm in the mood for drawing Niels with other peoples' characters, so if you have an original character you would like to see Niels with, link me to a picture and give a quick description of personality and anything else you think is important. I have to warn you though, your character can end up as anything between being desired by Niels, to being tortured.


Also, they will be modified to fit into this world, so fantasy characters will be dressed in modern cloth and if your character has crazy colour hair but is not a punk, their hair colour will be changed to something more normal and so on.
19th September 2009
Tagged in
Share Niels:
Latest comic in your News Feed:
We have an awesome newsletter with 18,001 subscribers!
Latest comic news
Merchandise news
Iceland's Demon Cat
and more!
8 Comments:
Copyright © 2009-2022 Niels
Artist's dA Journal
|
Artists Twitter
|
Privacy Policy