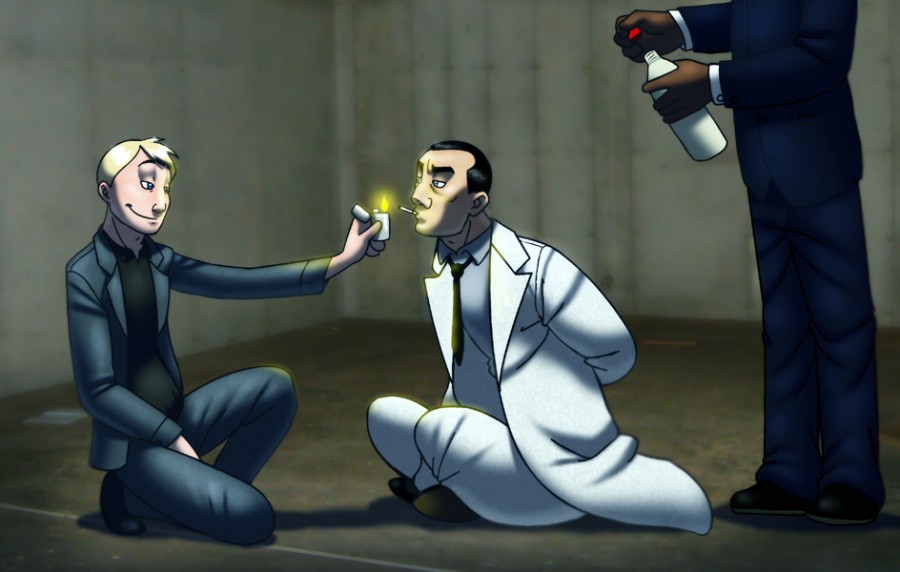 Fall of a King
---
"What wonderful music you will make"
"...Hu?"

Poor Former Baddie. He didn't smell the petroleum before it was too late.



Yes, this is Bi-Baddie getting a promotion aka killing his boss. Don't worry. If that one bottle of petroleum won't do it, they'll just go out and buy some more.



Bi-Baddie always thought Former Baddie was a fantastic leader (with a fantastic singing voice), who unfortunately never listened to other people's advise, and over time he just got really fucking sick and tired of his attitude.

But it was that one evening in Japan that pushed Bi-Baddie over the edge and started Former Baddie's road to this. (I have no idea what happened that evening. I just like to hear what you guys come up with because you always think of things that never even crossed my mind

)

Bi-Baddie is the first of my characters who I really don't care if you love or hate. Of course I like him, but if you want to punch him in his smug face and set his stupid hair on fire, I'm okay with that. That's what I made him for after all.

17th September 2009
Tagged in
Share Niels:
Latest comic in your News Feed:
We have an awesome newsletter with 18,001 subscribers!
Latest comic news
Merchandise news
Iceland's Demon Cat
and more!
8 Comments:
Copyright © 2009-2022 Niels
Artist's dA Journal
|
Artists Twitter
|
Privacy Policy