Fashion
---
A joke on sophisticated bad guys' odd habit of designing new clothes for the people they kidnap. Bond villains especially liked that.
15th January 2013
Tagged in Niels
Support the comic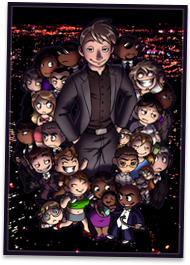 Buy the poster

A large poster, showing Niels and his toys, on thick Gloss Art 170gsm paper.
Share Niels:
Latest comic in your News Feed:
We have an awesome newsletter with 2,079 subscribers!
Latest comic news
Merchandise news
Iceland's Demon Cat
and more!
28 Comments:
Copyright © 2009-2015 Niels
Artist's dA Journal
|
Artists Twitter
|
Privacy Policy