The New Guy
---
How the mind of a homophobe works.

Let's hope the guy can keep his mouth shut, because if Duncan finds out that this is how he sees him, he will kill him personally.

1st January 2010
Tagged in
Support the comic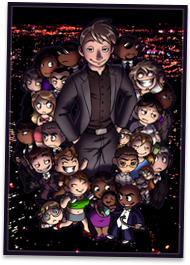 Buy the poster

A large poster, showing Niels and his toys, on thick Gloss Art 170gsm paper.
Share Niels:
Latest comic in your News Feed:
We have an awesome newsletter with 2,012 subscribers!
Latest comic news
Merchandise news
Iceland's Demon Cat
and more!
15 Comments:
Copyright © 2009-2015 Niels
Artist's dA Journal
|
Artists Twitter
|
Privacy Policy