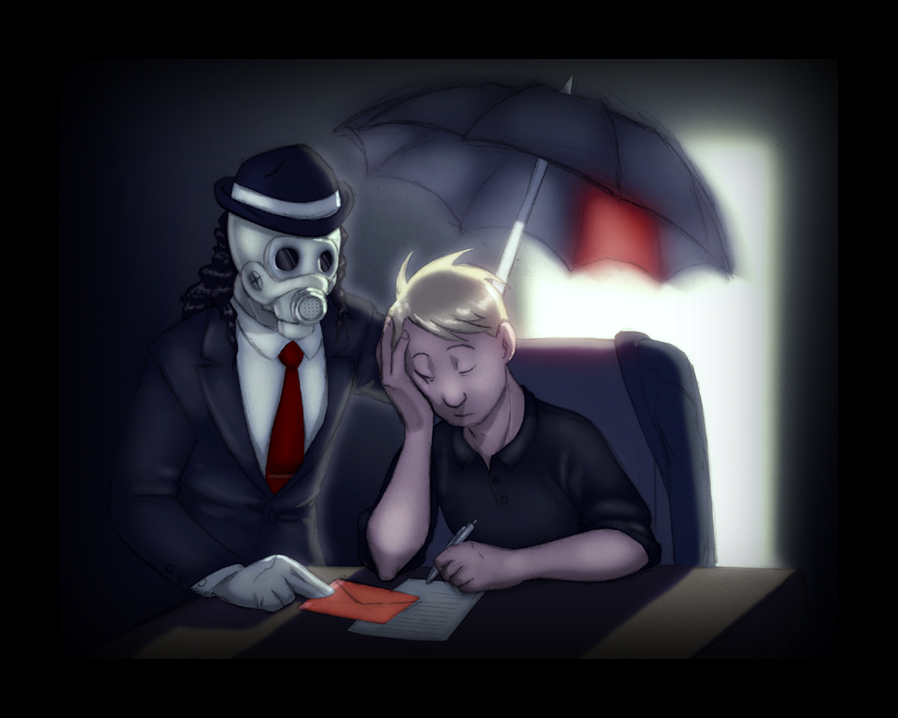 The Letter
---
A commission made for http://rythmear.deviantart.com/

He requested a picture of his character Umbrella Man delivering a letter to a sleeping Niels.

As he put it: "To make sense of this picture, it would seem Umbrella Man is delivering a message to Niels, something which may very well seem utterly trivial at the time he reads it - but someday will cause something important in his life, for better or for worse."

The umbrella is supposed to look fuzzy, like it's not quite right. In fact, I tried to give the whole thing a slightly dreamy feeling, as if Niels is somewhat aware that someone else is there, but at the moment he think he's just dreaming.

I like how the gasmask ended up almost looking like a cranium.

16th July 2010
Tagged in
Share Niels:
Latest comic in your News Feed:
We have an awesome newsletter with 18,001 subscribers!
Latest comic news
Merchandise news
Iceland's Demon Cat
and more!
5 Comments:
Copyright © 2009-2022 Niels
Artist's dA Journal
|
Artists Twitter
|
Privacy Policy