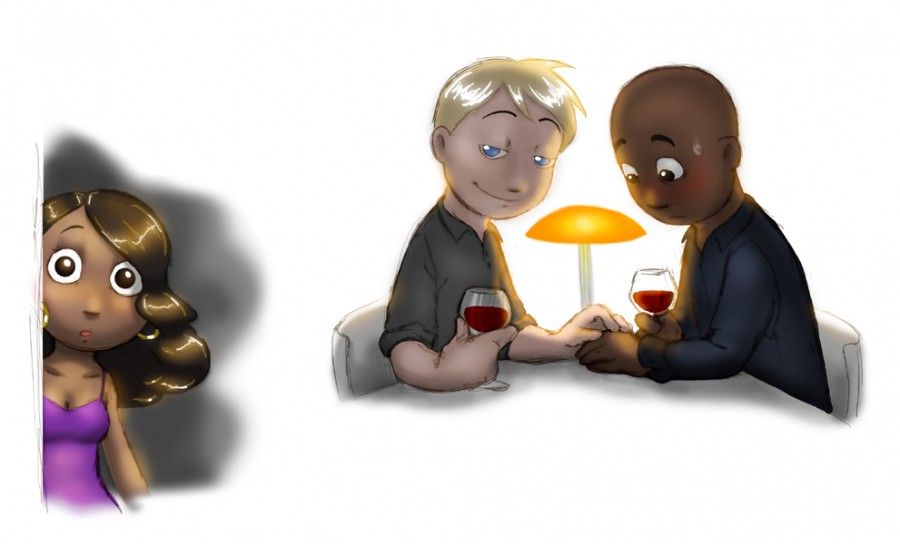 Seduction of a Boyfriend
---
This is a pair of sketches that ended up with a lot more color and shadows than I intended. It's supposed to be the exact moment Natalie realize that Niels wants a threesome.

A longer explanation for those who cares:
Niels first met Duncan, and after talking with Natalie too, he decided that he wanted them both or noting.

At fist he only seduced them one on one. They required very different treatment because Duncan had obviously never been with a man before, but Niels knew his closets and could tell he was at least bi-curious. He had to be careful thought not to push Duncan too far, or he could get violent about it.

Neither did he want to push Natalie into doing something she wasn't sure about, so he never slept wither either of them. With Natalie it never got further than a very soft and very quick kiss on the cheek. He didn't want them to feel like they were cheating on each other, because then when they found out he had been playing them both, they would surely kick him out to feel better about themselves.

When he was with Natalie he did this thing where he gently touched her hand with his fingers. When he decided that they were both "ripe" for more, he invited them to his apartment, and arranged it so that Natalie would see Niels touch Duncan's hand the same way he touched her. At first she had no idea what was going on, until he suddenly looked her in the eyes, and she realized that this was Niels' way of telling her, "I want you both"

Afterwards when she was alone with Niels she asked him if it had meant what she thought it meant. He told her yes, it did, and would she please help him? Natalie had been suspecting that her boyfriend was bi for a long time, and after telling Niels was a creep his was (and a few other things that shall not be mentioned here), her curiosity got the best of her.

They then joined forces, and with Natalie on his team, the seduction of Duncan became a piece of cake.



Non of them had any idea that they would all end up living together with a kid to look after...
20th October 2009
Tagged in
Share Niels:
Latest comic in your News Feed:
We have an awesome newsletter with 18,001 subscribers!
Latest comic news
Merchandise news
Iceland's Demon Cat
and more!
13 Comments:
Copyright © 2009-2020 Niels
Artist's dA Journal
|
Artists Twitter
|
Privacy Policy