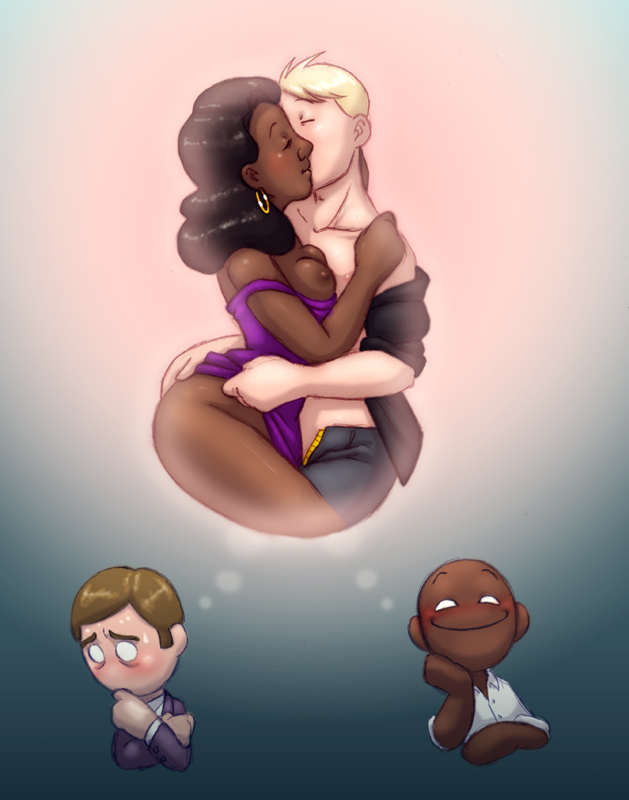 Same Desire
---
Agent 300 and Duncan desire the same two people, but the difference is obvious.

Agent 300 was probably fantasising about Natalie, when he suddenly realized that it wasn't himself but Niels who was doing the petting. Now he having an inner debate with himself about whatever or not it is okay to fap to that.

Duncan doesn't have to imagine a goddamn thing. Sometimes he likes to be the creepy pervert in the room and just watch Natalie and Niels do their thing. He is just remembering the lovely sight from last night.



I only just realized that Agent 300, Duncan and Niels are on different levels of accepting themselves. Agent 300 has only just realized that he may not be the super awesome incarnation of a macho straight guy, Duncan have accepted that he likes guys too but spends a lot of time reminding people that it doesn't make him a sissy boy, and Niels just doesn't care what people think.

13th June 2010
Tagged in
Share Niels:
Latest comic in your News Feed:
We have an awesome newsletter with 18,001 subscribers!
Latest comic news
Merchandise news
Iceland's Demon Cat
and more!
3 Comments:
Copyright © 2009-2022 Niels
Artist's dA Journal
|
Artists Twitter
|
Privacy Policy