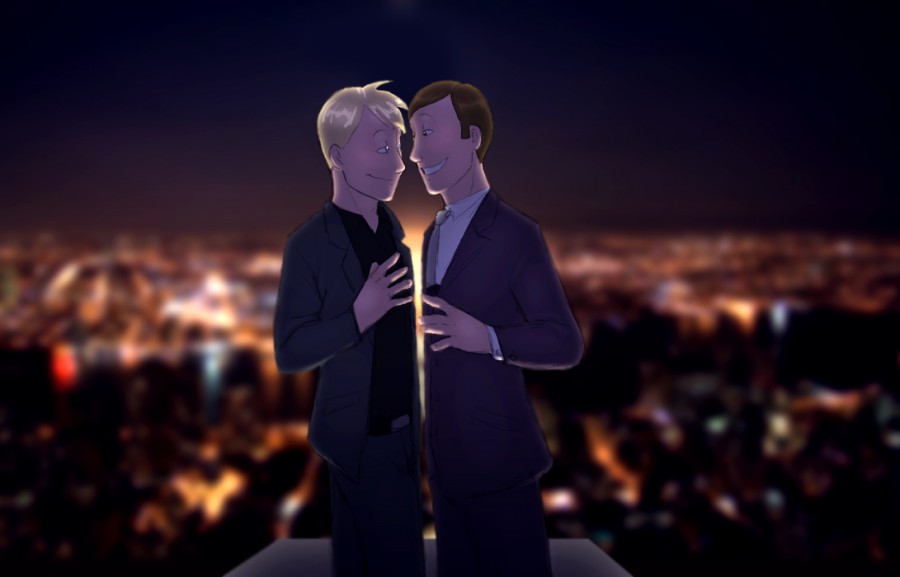 Just a Little Push
---
I wasn't going to post anything today, but then I fell asleep on the sofa and had a dream where Niels and Agent 300 was standing at the edge of a building. They looked like they were about to hug/kiss, but in the dream I knew it wasn't going to happen, and that their real intention was to distract each other and see who pushed whom off the building first.

It was so symbolic of how I imagine their relationship that I had to draw it.

Niels is always flirting with people, even when he doesn't mean to, and with Agent 300 he has finally found someone who is willing to play that game. He tried for years to get Thomas to play along, but all attempt at flirting was completely ignored.
Agent 300 is a womaniser, so he is not used to flirting with men like this, but he is not only a charming fellow but also a sneaky bastard who has figured out that it's a wonderful tool for distraction Niels, so why not use it?

It all started when Niels was trying to mess with Agent 300 in the hopes of freaking him out, but then 300 flirted back and it just kept going from there.

9th February 2010


Tagged in

Share Niels:

Latest comic in your News Feed:



We have an awesome newsletter with 18,001 subscribers!
Latest comic news
Merchandise news
Iceland's Demon Cat
and more!
4 Comments:
Copyright © 2009-2022 Niels
Artist's dA Journal
|
Artists Twitter
|
Privacy Policy