Jungle Fever 2
---
Part 3: http://humoncomics.com/jungle-fever-3
of 4: http://humoncomics.com/gallery/jungle-fever

Damn you White Man for ruining the black fun once again!!!
But admit it. You would so watch a movie about two Great White Hunters fighting each other over Africa, while the natives are all like, "What the hell are those idiots doing?"

Yes Niels. Pretending to shoot other people's children is really cute...

What the hell Agent 300 is doing there will remain a mystery, but for once Duncan doesn't mind having him around.

23rd March 2010
Tagged in
Support the comic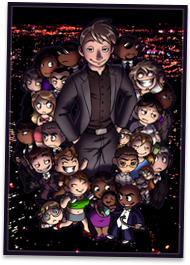 Buy the poster

A large poster, showing Niels and his toys, on thick Gloss Art 170gsm paper.
Share Niels:
Latest comic in your News Feed:
We have an awesome newsletter with 2,014 subscribers!
Latest comic news
Merchandise news
Iceland's Demon Cat
and more!
10 Comments:
Copyright © 2009-2015 Niels
Artist's dA Journal
|
Artists Twitter
|
Privacy Policy