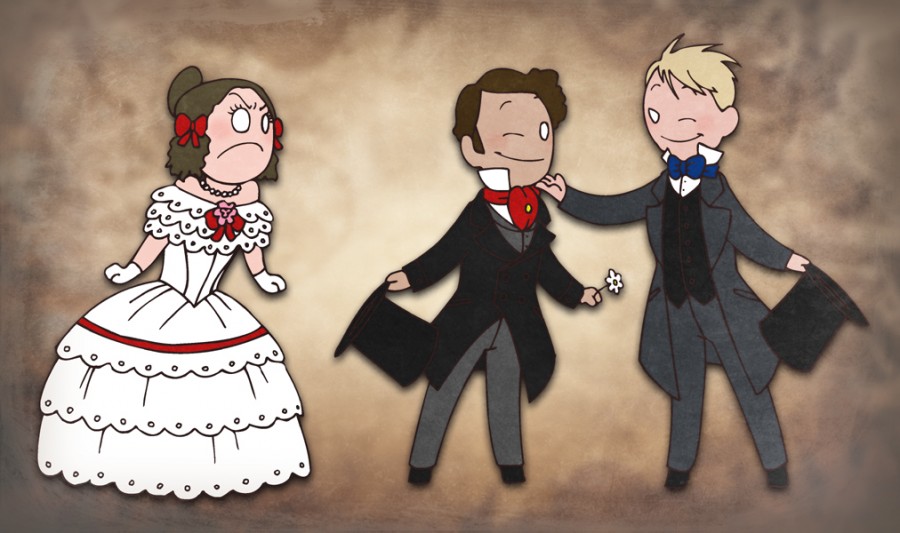 Gentlemen's Hobby
---
Two characters that are special to the alternative Danish-Westindian Islands story of Niels. The Danish girl Ingrid, and the young Norwegian man Kristian.

The first ships the landed on the islands had a high density of Norwegians because the Danish sailors didn't want to emigrate and ran away in Norway, so the people in charge had to hire new sailors. Most people died within the first two years because of the tropical climate and the illnesses that followed, but those who survived became among the riches families later on.

Kristian descends from one of these families. His father is a plantation and slave owner. Kristian doesn't care much for the plantation, and is kleptomaniac to boot. He likes to think of himself as a gentleman thief, though most of the time is just pointless stealing of random and worthless objects for the thrill of it.

Ingrid is often called "Poor Ingrid" even by Kristian himself, because she have been chosen to marry him. Even though he is a gentleman who has never laid a hand on a woman, he would make a crappy and unreliable husband and everybody knows it. She has however gotten the idea that she will tame him, so one day they can marry. It's not going very well, and when Niels decides to befriend Kristian and use his stealing talents it just gets worse.

Niels and Kristian starts something that is very high fashion in Denmark at the time (And therefore also in upper-class Norway): a romantic relationship. It sounds odd to us today especially since homosexuality was illegal, but in 1700 and 1800's Denmark romantic relationships were very popular between young men, where they would write long love letters to each other, buy each other gifts, bring each other flowers, go for long walks arm in arm, and admire each other beauty. But just like young couples of opposite gender, sex was strictly forbidden and the relationship should be kept on a playful and almost poetic level. When one of them got married they would write sad letters to each other. This pisses Ingrid off to no end, because Kristian is supposed to do all those things only with her!

Yes, I'm being an extreme history geek for this story.

9th September 2010
Tagged in
Share Niels:
Latest comic in your News Feed:
We have an awesome newsletter with 18,001 subscribers!
Latest comic news
Merchandise news
Iceland's Demon Cat
and more!
8 Comments:
Copyright © 2009-2022 Niels
Artist's dA Journal
|
Artists Twitter
|
Privacy Policy