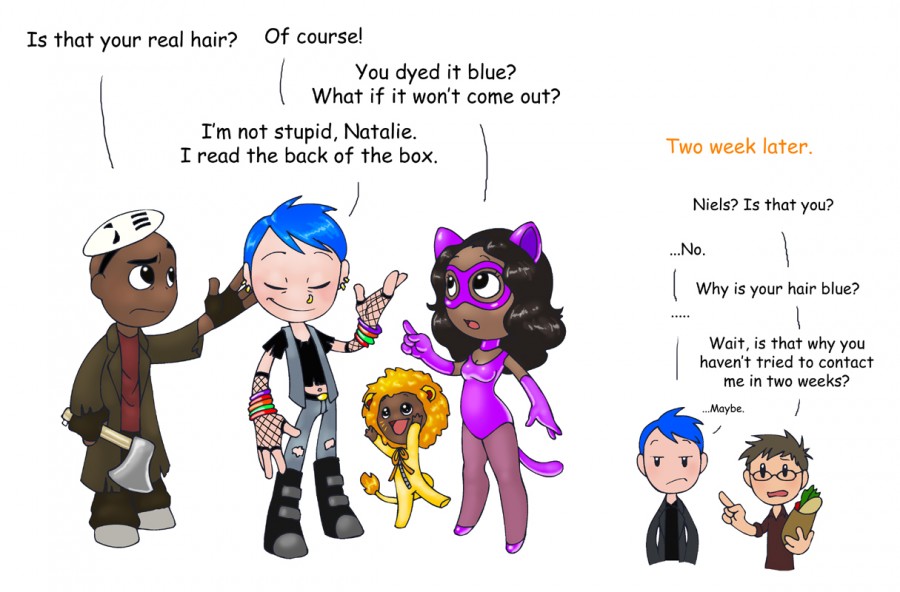 Blue Halloween
---
The obligatory Halloween picture.

My first thought was that Niels would dress up as a punk, and the thought that followed immediately after was the he would end up with blue hair for weeks afterwards. Sure, it was fun at the party and kinky afterwards at home, but bad for your reputation in the long run. Oh well, at least Kiddo loves it.



Natalie is obviously one of those people who use Halloween as an excuse to dress like a whore.



And Thomas thinks something's wrong when a crazy man is not following him. That's not a good thing.
12th October 2009
Tagged in
Share Niels:
Latest comic in your News Feed:
We have an awesome newsletter with 18,001 subscribers!
Latest comic news
Merchandise news
Iceland's Demon Cat
and more!
13 Comments:
Copyright © 2009-2022 Niels
Artist's dA Journal
|
Artists Twitter
|
Privacy Policy