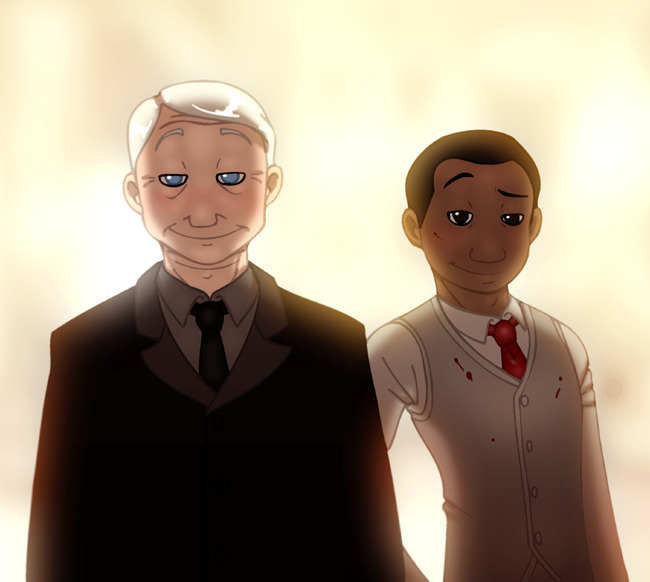 A Possible Future
---
A lot of people have asked what Kiddo (btw. I decided to call him Elliot, but the only people who will ever call him that are his parents and one of his girlfriends) will look like when he grows up, and that also made me wonder what Niels will look like in his old age.

I have a million different ideas for what happens when Kiddo gets older, but this particular picture was inspired by this version:
Natalie and Duncan are killed rather gruesomely as an act of revenge for something Niels did. Niels does not take it nicely and slowly starts killing people who he feels had some part in it. Not all the people on his list are easy to get to and he has to take care of his overall business too, so his revenge is not done overnight. He also makes sure Kiddo knows what happened to his parents, so he will happily help his uncle on his killing spree. When there is about four people left on the list, Niels has gotten too old to sneak into houses and what not, so Kiddo takes over. Some he kills on the spot, others he drags home so Niels can enjoy watching Kiddo kill them.

As you can hear it's one of the more outrageous versions of their story and most likely not the one I'll go with, but it is fun enough to deserve a mention.

17th November 2009
Tagged in
Share Niels:
Latest comic in your News Feed:
We have an awesome newsletter with 18,001 subscribers!
Latest comic news
Merchandise news
Iceland's Demon Cat
and more!
22 Comments:
Copyright © 2009-2022 Niels
Artist's dA Journal
|
Artists Twitter
|
Privacy Policy