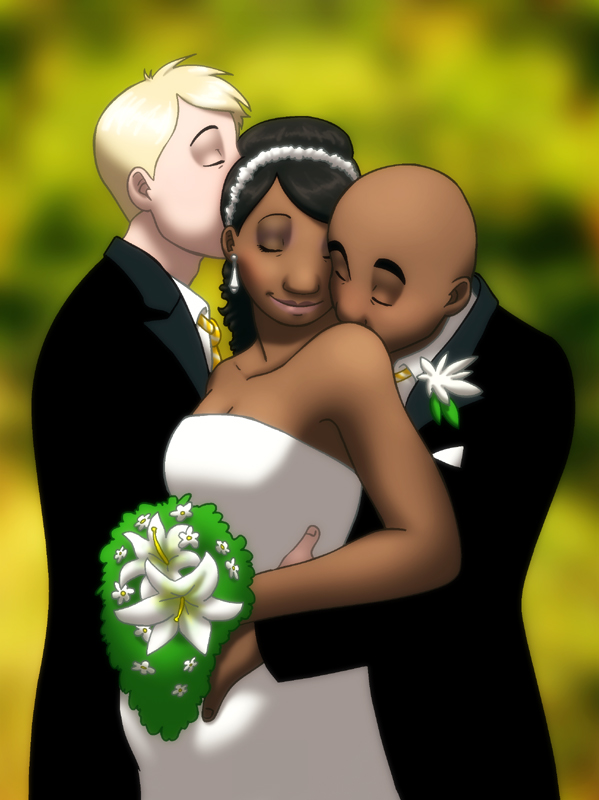 Threeway Wedding
---
This would probably be one of the most unholy wedding pictures ever to be taken, yet I feel a need to apologize for creating such romantic crap.



It's the wedding photo that stands in Niels' living room. Obviously he didn't marry Natalie and Duncan (Yes, they have names now!) This is from their wedding which Niels' paid for and was Duncan's best man. At this point they had been a confirmed threeway couple for a year, and it was one of those things that everybody knew but never talked loudly about. And the guests at the wedding most certainly noticed that Duncan and Niels' were wearing identical tuxedos.

When they had their wedding photos taken afterwards, Natalie asked to have some taken with Niels as well. The photographer felt a bit awkward. :giggle:
Yes, she was pregnant at the time.

Quite a few people have asked how he met Duncan and Natalie, so here you go.

****

Duncan always had troubles with the law, and had been in prison a few times, but he mostly did "harmless" robberies and were the kind of burglar who would just run off if the owners of a house came home or woke up.
Natalie simply worked as dishwasher at a hotel. In other words, neither of them made a whole lot of money.

So when it turned out Natalie was pregnant, everything went down the shitter. All of a sudden they needed a lot of money, but when Natalie's boss found out, she fired her for "various reasons".
Duncan wanted the child to have a nice childhood so he tried to get a steady job, but no one would hire him with his criminal record. They started to get desperate, and that was when Duncan made one of the biggest mistakes of his life and lend money from "Johnny". When he couldn't pay the money back, Duncan got the choice between loosing all his fingers, or come work for Johnny. Suddenly Duncan's crimes weren't so harmless anymore. Without going into too much detail, he was forced to do some bad things.
To make matters worse Natalie had a miscarriage. Now they had an apartment full of baby stuff they didn't need, and all their problems with Johnny seemed to be for nothing, but Duncan couldn't get out.

It was around this time Niels met Duncan. At this point Niles had become Johnny's right hand man, and spend an awful lot of time at Johnny's place. One day when he went out to get some air while Johnny talked with some of his "employees", he met Duncan who was still so low in the hierarchy that he hadn't been allowed to come inside. Duncan knew who Niels was and got rather nervous, both because Niels was technically his boss, but also because he had heard of the things Niels was capable of, and was convinced that he was a complete psycho. Therefore he got rather surprised when Niels turned out to be quite pleasant company.
Over the next month they started running into each other more and more often. At first Duncan didn't think much of it, until he realized Niels was stalking him. They then spent about two weeks playing an unspoken game of "I see you! No you don't!"

It all culminated when one day Duncan came home to his apartment, and found Niels sitting on the couch, talking with Natalie. He went absolutely berserk and started shouting all the thoughts he had had about Niels for last couple of weeks, until Natalie stopped him, and told Duncan that Niels wanted to help them. Niels then explained that he was following Duncan to see what kind of people he hang around with and if he was trust worthy, because Niels was just as sick and tired of Johnny as everybody else and was working on "separating" himself from him. If Duncan would come and work for him, Niels would cancel Duncan's depth. That was of course very risky business, but Duncan decided to take Niels' offer.

It was from here the real seduction of the couple started.


****

If something about the story confuse you, please read the answers I've given to other people in the comments, before you ask any questions.
28th September 2009
Tagged in
Share Niels:
Latest comic in your News Feed:
We have an awesome newsletter with 18,001 subscribers!
Latest comic news
Merchandise news
Iceland's Demon Cat
and more!
16 Comments:
Copyright © 2009-2022 Niels
Artist's dA Journal
|
Artists Twitter
|
Privacy Policy