Househusband
---
.....Just go out Niels. You need it.

I've never talked about Niels' sense of humor before, but it's really really bad. He loves lame, stupid and old jokes others just sigh at.

6th October 2011
Tagged in
Support the comic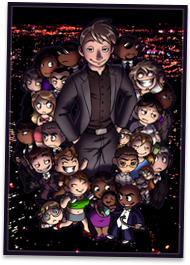 Buy the poster

A large poster, showing Niels and his toys, on thick Gloss Art 170gsm paper.
Share Niels:
Latest comic in your News Feed:
We have an awesome newsletter with 2,496 subscribers!
Latest comic news
Merchandise news
Iceland's Demon Cat
and more!
63 Comments:
Copyright © 2009-2015 Niels
Artist's dA Journal
|
Artists Twitter
|
Privacy Policy