For The Fans
---
Every time I get a comment like "I want Agent 300!" or "The Agent is so hot!" it's always from a man. It makes me laugh every single time so I had to make a little something about it. The Agent does not approve!



I thought about putting a straight guy among the fans who was going "I'm disappointed in you man!" because I've had a few of them tell me the Agent is a weirdo for lusting after Niels when he can have (and gets) as many hot ladies as he wants.

11th April 2011
Tagged in
Support the comic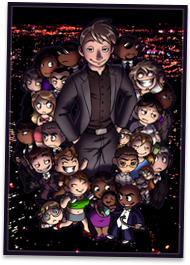 Buy the poster

A large poster, showing Niels and his toys, on thick Gloss Art 170gsm paper.
Share Niels:
Latest comic in your News Feed:
We have an awesome newsletter with 2,152 subscribers!
Latest comic news
Merchandise news
Iceland's Demon Cat
and more!
35 Comments:
Copyright © 2009-2015 Niels
Artist's dA Journal
|
Artists Twitter
|
Privacy Policy