It was a good night
---
The song Duncan is dancing to [link]

The idea was stolen from my friend who told me that she woke up one night to find her drunk boyfriend, who is a hardcore heavy metal fan, headbanging to a Black Eyed Peas CD they didn't own. He had no idea where he got it.



I don't draw Duncan that much, but he is actually one of my favorite characters.

20th November 2011
Tagged in
Support the comic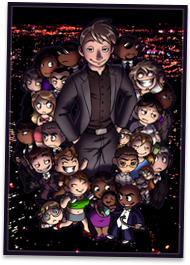 Buy the poster

A large poster, showing Niels and his toys, on thick Gloss Art 170gsm paper.
Share Niels:
Latest comic in your News Feed:
We have an awesome newsletter with 2,018 subscribers!
Latest comic news
Merchandise news
Iceland's Demon Cat
and more!
37 Comments:
Copyright © 2009-2015 Niels
Artist's dA Journal
|
Artists Twitter
|
Privacy Policy